OWNED BY TEXAS-BASED WASTE CONNECTIONS
The Dunn C&D Landfill
The Dunn C&D Landfill, owned by Texas-based Waste Connections, is the largest of its kind in NYS. This gigantic 99-acre industrial operation is located near residential neighborhoods in both Rensselaer and East Greenbush, and is immediately adjacent to the Rensselaer City School District Campus, where over 1,000 students and hundreds of teachers and other staff learn and work. No other landfill in NYS is located next to a school.
Since the landfill began operations in 2015, the residents of Rensselaer have been subjected to the rotten egg odors caused by hydrogen sulfide gas released from rotting drywall in the landfill. Dust from the dump frequently envelopes the school and surrounding homes. Each weekday, beginning around 6:40 AM, dozens of long-haul tractor trailer trucks coming from seven states roar up through residential areas of Rensselaer on their way to and from the dump, disturbing residents and exposing them to dust, loud noise, and diesel exhaust.
The landfill has the acreage capacity to continue through 2036- another 16 years! And further expansion cannot be ruled out.
This landfill negatively affects local residents and people at the school in many ways:
Pervasive rotten egg odors from hydrogen sulfide, a respiratory irritant, emitted from rotting sheetrock
Chronic noise from back-up beepers and the long-haul trucks
Diesel pollution and traffic congestion
Periodic dust storms on the school campus and dust along the truck route.
Visibility from some residences and the Holy Sepulchre Cemetery
Reduced property values
PFAS Contamination *
* Recent studies have found that toxins such as PFAS and particulate matter from diesel exhaust may make COVID-19 worse.
The landfill and haulers have been cited for many violations, including overweight trucks, dust clouds, illegal entry points, illegal runoff, liner design flaws and depositing municipal waste. Most of these citations resulted in small or no fines – a mere slap on the wrist for a big corporation.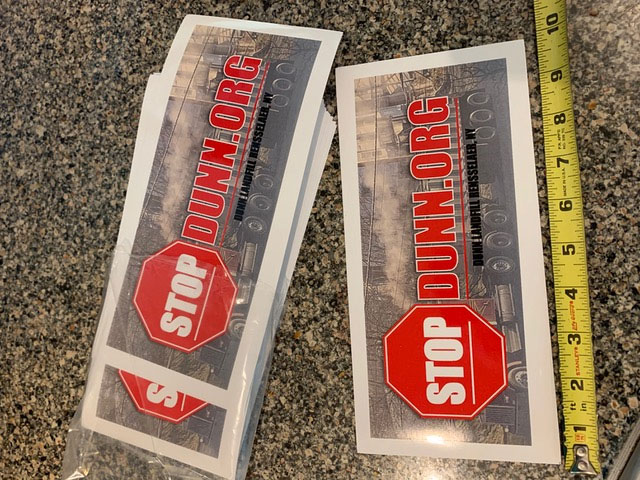 NYSDEC claims it is using the "best available science" when it comes to testing for PFAS at the Dunn Landfill in Rensselaer
High concentrations of PFAS have been detected in the landfill leachate, which goes directly into the Hudson river and could threaten the drinking water of downstream communities.